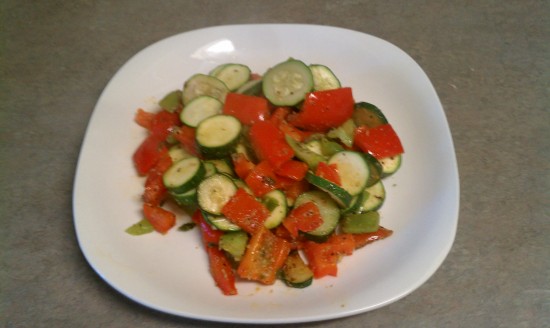 (P.S. I suck at food photography)
***Shoutout to Andrew Olson of EmptyFist, who inspired this challenge, for his link love – – – check it out here.
_____________________
Last week, I polished off a pizza and wings before starting up the One Ingredient Diet approach. Great way to pad the numbers right? Wrong.
Though not entirely catastrophic to the approach, pounding down some amazingly fattening food in gargantuan amounts only makes the heart grow fonder many times and last week was just that case.
I didn't have huge cravings come Day 1, but it certainly didn't help having pizza and wings the night before. My suggestion to you (and my future self) is to enjoy a small pleasure before testing out a new diet, but don't binge. The only thing I can compare it to (though without experience) would be to an alcoholic who chugs a handle of vodka on their way to rehab. It only makes the journey to "the clean side" that much tougher.
Not that Bad Because Nothing Really Changed
Once I got over the initial withdrawals, I felt fine with the One Ingredient Diet. Mind you, I have generally followed the One Ingredient Diet in my life so not much has changed. With that said, the things that have changed are definitely noticed.
One of the minor yet noticeable changes has been the lack of condiments I can consume. Condiments are like a spoon full of sugar to Mary Poppins. A spoon full of condiments makes everything go down.
A great way to get your mind off the condiments is to try out different spices and herbs on your meals. It has made all the difference in my approach. Without adding a variety of spices while cooking, most of these vegetables would lack any flavor. I will keep you updated as to what has worked the best for me.
You probably don't realize how often you use dressings, salsas, and sauces. Not the good homemade dressings either. No. The ones that have tons of preservatives and additives to go along with the itty-bitty amounts of real food within them. Don't get me wrong, they taste amazing, but they don't fall into the One Ingredient Diet one bit.
Friends, Food & Saying NO!
One of the reasons I chose June to test the One Ingredient Diet out was because I have very little to do this month. Thus, complete and utter focus. With that said, there is always something going on and my something was having great friends in town.
One of my biggest weaknesses is saying, "No," to going out and having a good time. A close second to that is saying no to drinks and good, but not necessarily the healthiest, foods when friends are in town. Yet, I stayed strong and said no multiple times.
Though not super-healthy, I did manage to stick to the One Ingredient Diet while having lunch at a local Thai restaurant called Thai Cafe. I managed to put down a heaping of pineapple rice with mixed vegetables. It was definitely a great meal despite my wee bit of salivation over the other sauce-heavy meals my friends had.
It all comes down to how bad do you really want it. I want to succeed at this so saying, "No," just comes with the territory. Luckily, I am out of the major peer pressure stage of life so I don't feel so obligated to partake and have the will to decline.
If you are trying out the One Ingredient Diet, what is the toughest part for you? What suggestions, questions or thoughts do you have? Please do share in the comments section below.