First and foremost, THANK YOU for joining our team here at Become a Beast! 
 Here at Become a Beast, you will learn how to take whatever health and fitness level you are at and improve upon it.  We will work together to build the Beast you have always wanted to be.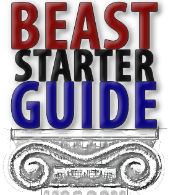 Below, you will find the Top 3 Ways to Get Fit Starting Today & The #1 Beast Workout. Try those out and see if they are helping you head in the right direction. They are simple action steps that you will see immediate results with. If they work for you and you want to further your success down a path that leads to you becoming a Beast, then you may want to check out The Beast Academy.
Once again, THANK YOU for joining the Beast Squad and committing to a healthy and fit life going forward.
Now, on to what you signed up for…
Click Below to Access Each Article
Top 3 Ways to Become a Beast Starting Today
&
David Damron
Founder, Become a Beast